We currently have  puppies due April 2022. For more information please email us. :)  
 EMAIL us for more information.
----------------------------------------------------------------------------------------------------------------------------------------------
due to the overwhelming inquires  It is very hard to get back to everyone. Please call us directly 
---
Thank you for visiting us. As a responsible breeder, I want to make every effort to get to know my potential puppy buyers well before puppies are ready to go home!  The following QUESTIONNAIRE  will help me learn more about you and what you want in a HaltonHill Boxer. Please complete this QUESTIONNAIRE and I will add you to the
mailing list for upcoming litters.  Visits to our home to meet me and the dogs are encouraged and can be arranged!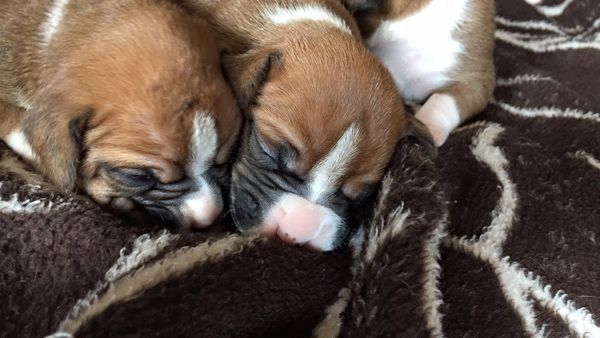 For More Information please EMAIL
---
Puppies below are from a previous litter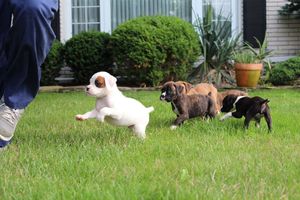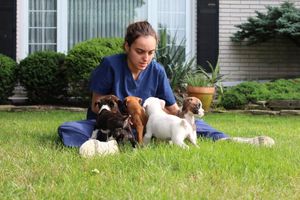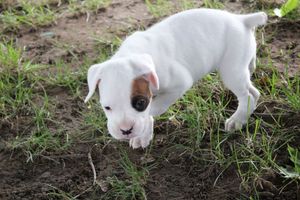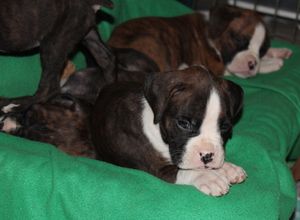 ---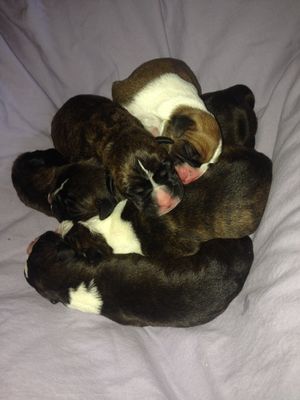 Kitchen-raised, guaranteed for companion, show and performance with lifetime support and advice. Because of our love and commitment to the Boxer, we have researched, chosen and ethically bred only the best and highest quality Boxers to be part of our family. Our puppies are of sound temperament and premium health. We strive to achieve and surpass the
CKC
standard for ability and looks.
Puppies are
CKC
Registered will have their first set of shots, vet checked, micro-chipped, de-wormed, tails docked and dewclaws removed.
They also come with 6 weeks of FREE
Pet Insurance
and are available for companion, show, or performance. Championed pedigree of top producer's world-wide.
Heart Tested linage by Board Certified Cardiologists. Our boxers were also involved in a
ARVC
Study by U of Guelph,
Veterinarian College of Ontario
.
Health is first and foremost with a good temperament and then conformation.
We also begin the process of housebreaking and these puppies will be already on their way to be taught to do their business outside.
2 year Health Guarantee!
We are members of the
Canadian Kennel Club
, Past Vice President of the
Northern Ontario Boxer Club
 , member and the past Fundraising Chair for NOBC.
This is our hobby and our passion. Our Boxers are members of our family and live in our home. We believe if you are breeding dogs as a living and consider yourself a self-sustaining business then you are doing it for the wrong reasons. A well-bred dog comes from a breeder who invest a lot of time and money in the health and betterment of the breed.
Serious inquires only
For more information please
EMAIL
us. 
---
---
---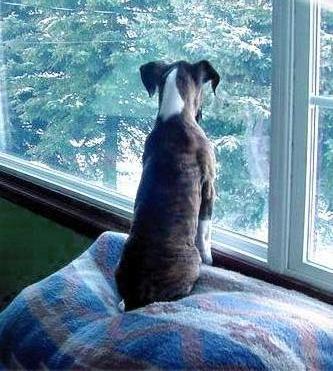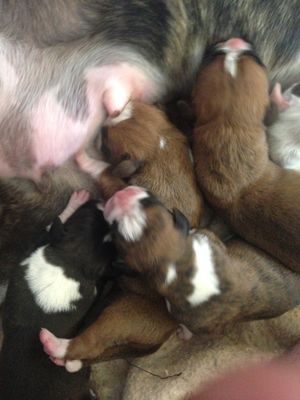 We breed on a very limited basis. We breed to conform to the CKC Boxer Standard and only to improve the stock we have. Although we have a registered kennel name we don't actually have a kennel—just 2-3 house dogs.
We abide by the the Canadian Kennel Club and Boxer Club Of Canada's Code of Ethics—which are very specific as to when, how often and why a dog should be bred.
We test our breeding stock prior to breeding and expect the same from those we are breeding to. A licenced veterinarian gives all puppies a set of vaccinations.
We provide, through our vet, health records for each puppy. Each puppy has been wormed, had their dewclaws removed, tail docked and ears cropped (optional). We provide aftercare for the cropped ears until they are standing correctly.
All puppies are sold on a contractual basis with non-breeding agreements.
We do not sell puppies over the web—we want you to come and visit our dogs. If you are from out of town we will require references. You are adopting a member of our family and we take this very seriously. We will provide an unending amount of help in regard to training, health issues, feeding and grooming. We help you choose a puppy that will match your lifestyle. Remember, this is a lifelong commitment and we want both you and your new puppy to be happy.
Feel free to contact us if you would like more information.
Once you have been approved and deposit has been made...you made a commitment...Deposits are Non-Refundable! 
---